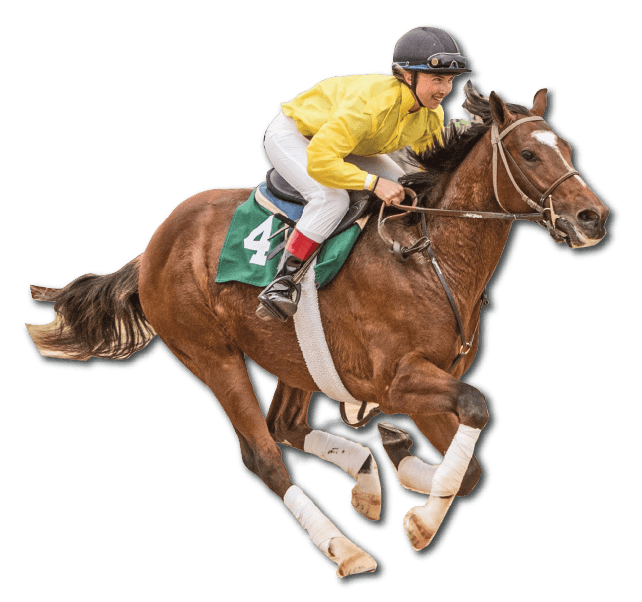 History of the Aiken Trials
Begun in 1942 as a way to give young horses in training the enlightening opportunity to experience every aspect of live racing, the Aiken Trials has become a time-honored tradition as the first leg of Aiken's Triple Crown events, held annually for three consecutive Saturdays in March. The Aiken Steeplechase and Pacers & Polo make up the other two events.
The Aiken Trials draws upwards of 10,000 spectators who enjoy a day of family fun that includes extravagant tailgating spreads, assorted vendors and good-natured side betting.
There are six races on the program consisting of five races for two-year-olds and maidens (horses that may have started in a race, but have never won), running a ¼ mile to 4 ½ furlongs, and one race for older horses that have already won.
The jockeys are local exercise riders who have an afternoon in the spotlight after paying their dues exercising horses each morning (in all weather) throughout the year. Occasionally, a trainer has brought in a licensed jockey to compete; making some exciting competition for the exercise riders!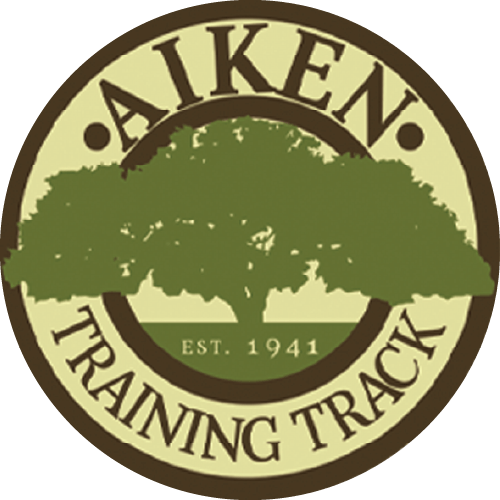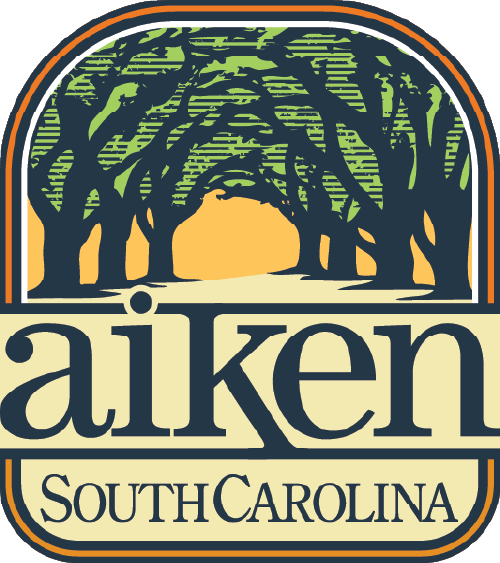 5 Thoroughbred Races, Pony Races, and more!
Vendor Village, Food Trucks, Hat Contest (no entry fee)
Tailgate Contest ($5 fee)
724 Two Notch Road
Southeast Aiken, SC 29801
General admission tickets/parking passes are now on sale for the Aiken Trials.
Everyone age 6 years and older must have a valid admission ticket.
General Admission Tickets
$25  available in advance and at the gate
General Admission Parking
$20 in advance or at the gate
In Person:
Aiken Training Track Office, 538 Two Notch Road, mornings 9:00 am – 12:00 pm (office accepts cash, check, or credit card)  CREDIT CARD PAYMENTS WILL INCUR A PROCESSING FEE.
By Phone:
TICKETS ARE CASH ONLY AT THE GATE.
ALL PURCHASES ARE NON-REFUNDABLE.
This is a rain-or-shine event. Be sure to purchase a Tent Permit so you're prepared whatever the weather. Permits may be purchased in the Track Office for $20.
Tent Policy
Tent Permit includes 1 additional General Admission Parking pass for your vehicle.
Tent and vehicle may NOT occupy the same spot.
You must provide your own 10' x 10' or smaller tent and properly secure it to the ground.
Tents in the Clocker Stand Patron area may be no wider than 8′.
Tent Permit must hang visibly from your tent at all times.
All tents will be inspected for permits and properly secured installation in the interest of safety for our attendees and horses.
No sidewalls are permitted on the rail in order to maintain a fair view of the track.

Aiken Training Track
Georgann Crawford
Equine Rescue of Aiken
Fresh-N-Ready
Funnel Cake Lounge
Beth Harpham
Lac'ds Boutique
Lazee Dayz Kravings
Palmetto Bowls
Poppy's Kettle Corn
Michelle Robbins
Southside Gallery
SuzieQ's
Sweet Cream Treats
Taquizas La Peña Bernal
Walton Options for Independent Living
We thank you for supporting our vendors!
First Trial – Two Year Olds
The Coward Trophy
Sponsored by The Richard L. Duchossois Family, In Memory of Richard L. Duchossois
One-Quarter Mile
| Place | Horse | Owner | Trainer | Rider | Time |
| --- | --- | --- | --- | --- | --- |
| 1 | Mii Amo | Legion Racing | Travis Durr | Brody Durr | 24.0 |
| 2 | Unheard | Legion Racing | Travis Durr | Rakeem Pauling | |
| 3 | Unnamed (Prenuptial Vow 21) | Allen Poindexter | Cary Frommer | Ismael Gonzalez | |
| 4 | Major Mayhem | R Marie Farms | Rebekah Hurt | Lizzie Quinn | |
| 5 | Attrayant | Kirkwood Stables | Cary Frommer | Ismael Benitez | |
| 6 | Unnamed (California Breeze 21) | Stuart Morris | Jason McCutchen | Lamont Smalls | |
Second Trial – Two Year Olds
The Gaver Trophy
The Dr. Rebekah Brady Memorial Trophy
Sponsored by Southern Equine Service
One-Quarter Mile
| Place | Horse | Owner | Trainer | Rider | Time |
| --- | --- | --- | --- | --- | --- |
| 1 | Callin My Name | Mason & Walker McCutchen | Jason McCutchen | Lamont Smalls | 21.2 |
| 2 | Unnamed (Thunder Lilly 21) | Riri Stables | Cary Frommer | Roberto Benitez | |
| 3 | Tunechi | Legion Racing | Travis Durr | Rakeem Pauling | |
| 4 | Unnamed (Seeking Options 21) | Riri Stables | Cary Frommer | Ismael Gonzalez | |
Third Trial -Three Year Olds and Upwards
The Von StadeTrophy
Sponsored by Aiken Saddlery
One Mile
| Place | Horse | Owner | Trainer | Rider | Time |
| --- | --- | --- | --- | --- | --- |
| 1 | Dante's Fire | Pathfinder Racing | Neil Morris | Ivan Cruz | 1:49.3 |
| 2 | Seismic Wave | William Russell | Neil Morris | Charles Bennett | |
| 3 | Junonia | Kinross Corporation | Neil Morris | Joseph Sharp | |
Fourth Trial -Three Year Olds and Upwards
The City of Aiken Trophy
Sponsored by Meybohm Real Estate
Four and One-Half Furlongs
| Place | Horse | Owner | Trainer | Rider | Time |
| --- | --- | --- | --- | --- | --- |
| 1 | Sinful Dancer | Kimberly Smith | David Figueroa | Makaia Paige Carpenter | 55.0 |
| 2 | He Is Bonafide | R. Marie Farms | Rebekah Hurt | Kathleen Wilson | |
| 3 | American Bound | Terry Hutto | Marion L Cuttino | Joe Sharp | |
| 4 | Cacio E Pepe | Mr. Amore Stables LLC | Travis Durr | Rakeem Pauling | |
Fifth Trial -Three Year Olds and Upwards
The Iselin Hall of Fame Trophy
Sponsored by Jack Wetzel
Four and One-Half Furlongs
| Place | Horse | Owner | Trainer | Rider | Time |
| --- | --- | --- | --- | --- | --- |
| 1 | Say It Loud | Cherry Knoll Farm | Peter Pugh | Caroline Pugh | 55.4 |
| 2 | Study Committee | Carson Ann McCutchen | Jason McCutchen | Lamont Smalls | |
| 3 | Brown Liquor Man | James M Miller | Wes Carter | Rakeem Pauling | |
| 4 | Noble Gem | Quail Ridge Farm | Neil Morris | Ivan Cruz | |
Foxhunter Challenge Race
Sponsored by: Helen Naylor, In Memory of the Mare, Roxy
Three Quarter Mile
Place
Horse
Owner
Trainer
Rider
1
In Effect
Pathfinder Racing
Neil Morris
Cedar Grove Hounds
Other entries:
Zella
Alicia Brigode
Josh Daniels
Aiken Hounds
True Up
Stacy Armstrong
Stacy Armstrong
Whiskey Road Fox Hounds
Knockout Kick
Kristin Schlachter
Kristin Schlachter
Rose Tree-Blue Mountain Hunt
Sweet Lady Mary
Mr. & Mrs. Ismael Gomez
Ismael Gomez
Rose Tree-Blue Mountain Hung
Family Tree
Irvin Naylor
Trey Bennett
Cedar Grove Hounds
Zeke
Alicia Brigode
Alicia Brigode
Aiken Hounds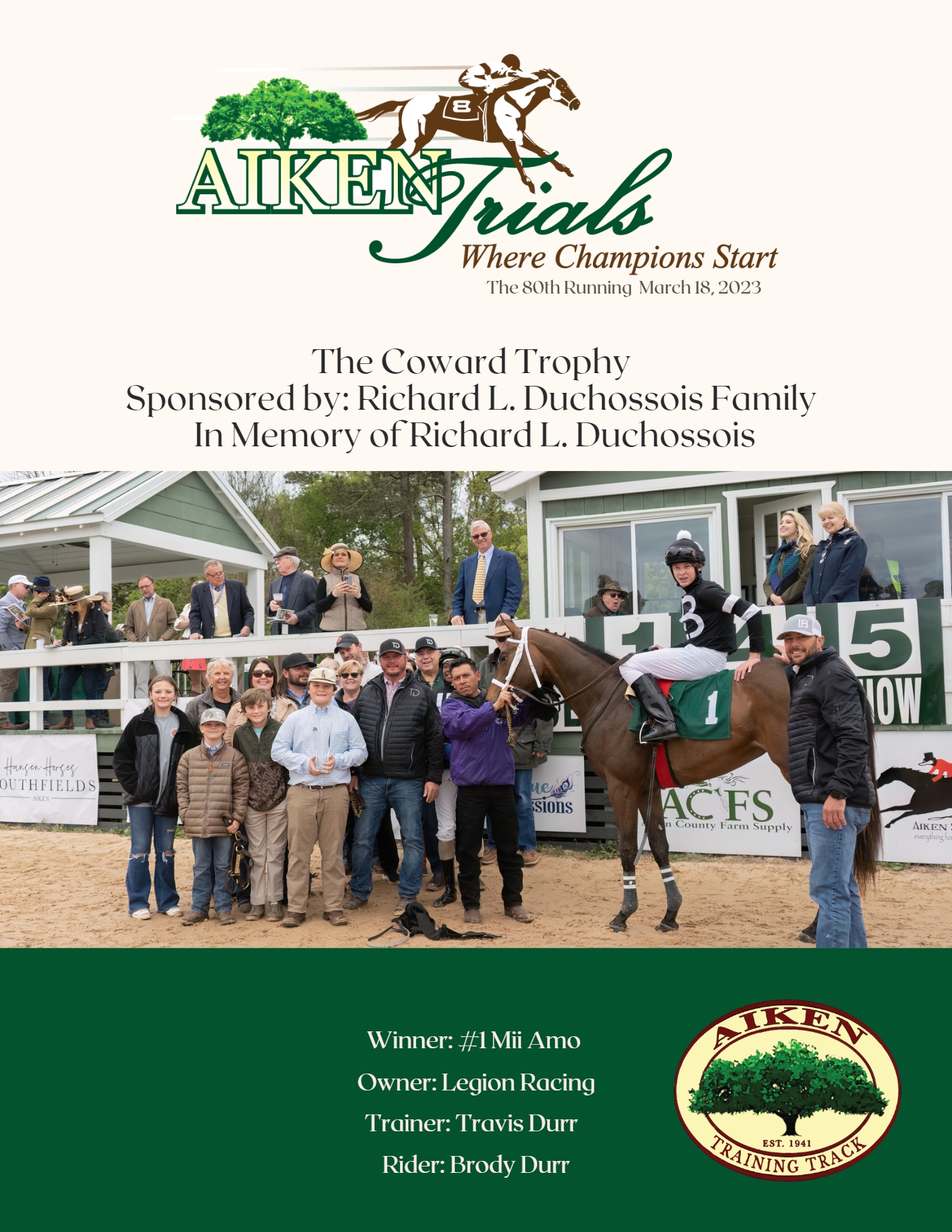 First Trial – Two Year Olds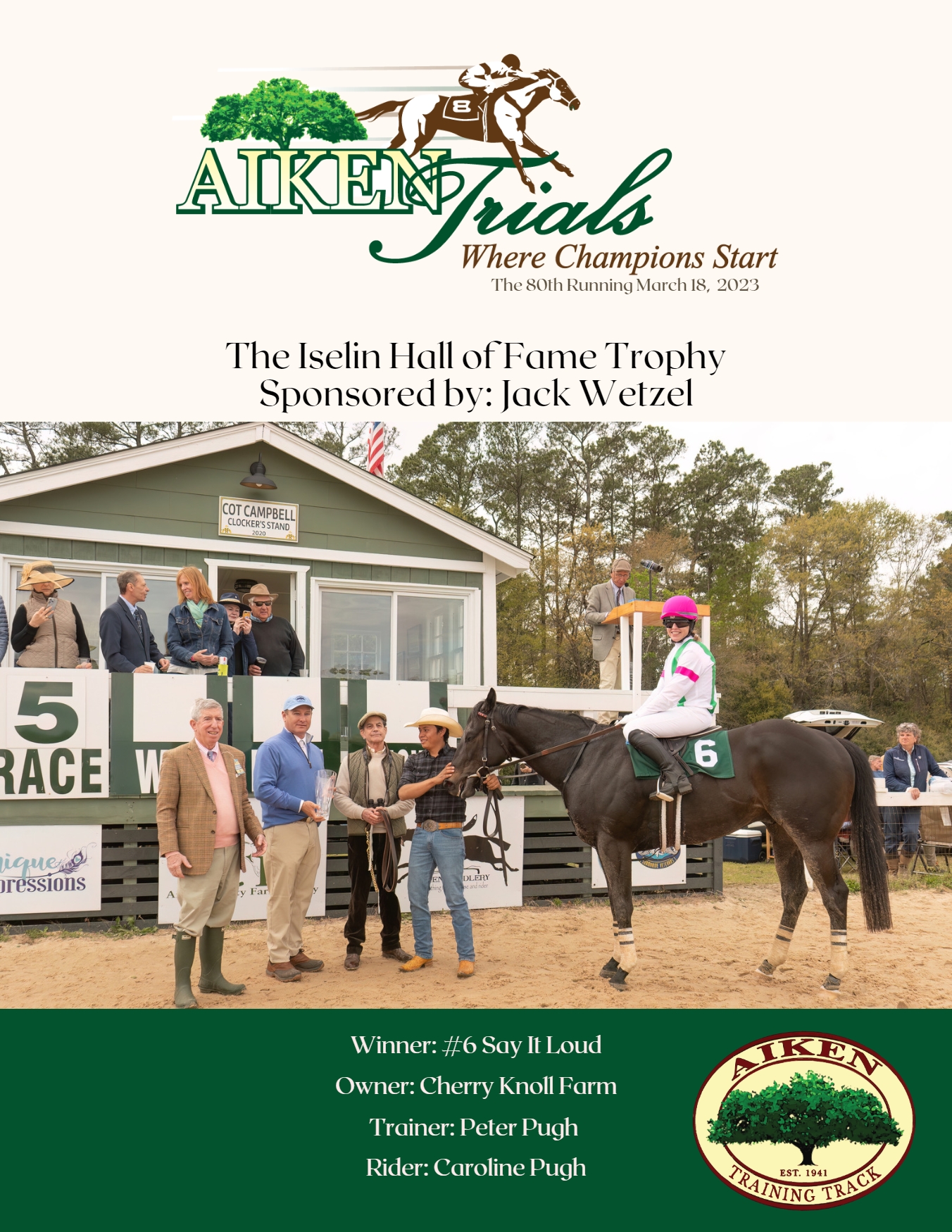 Second Trial – Two Year Olds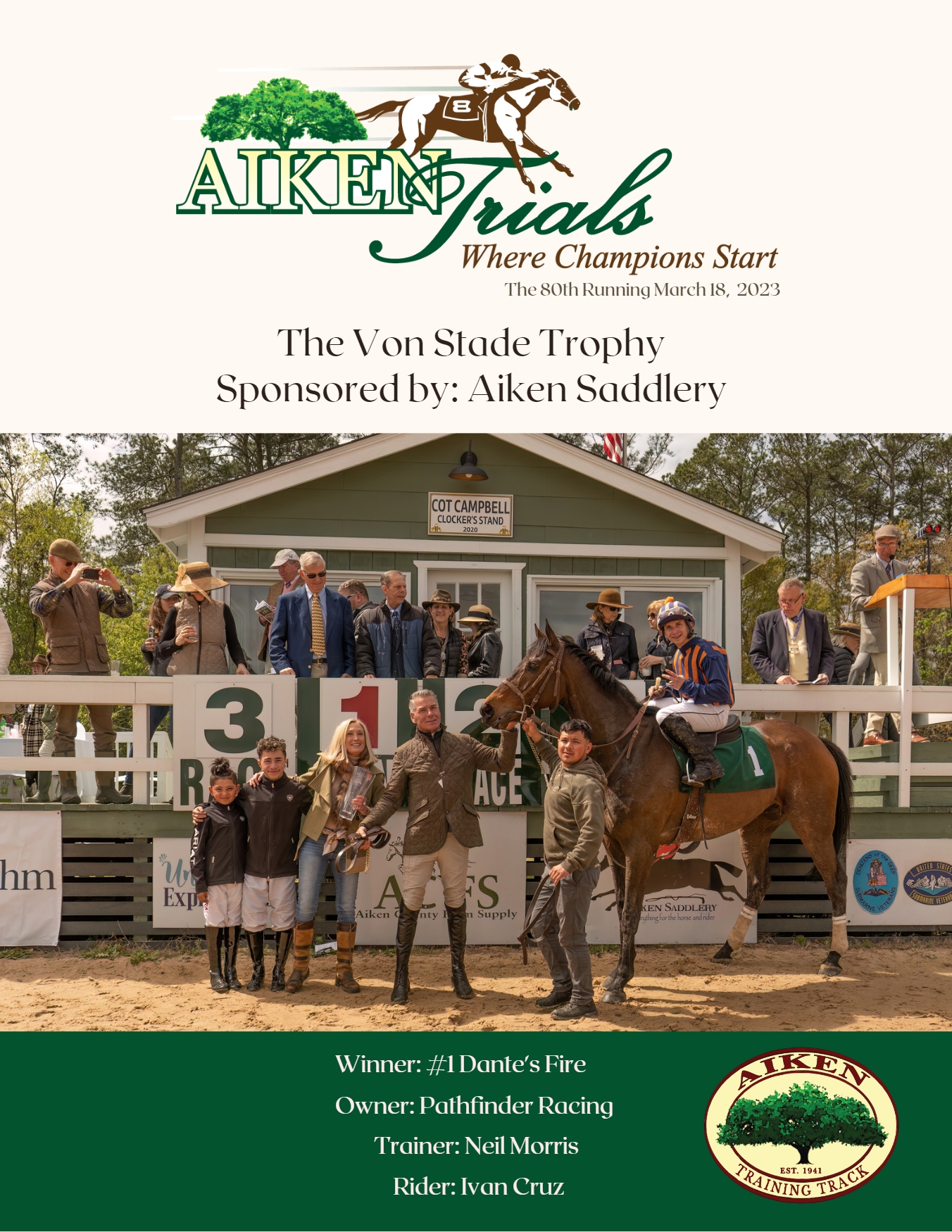 Third Trial -Three Year Olds and Upwards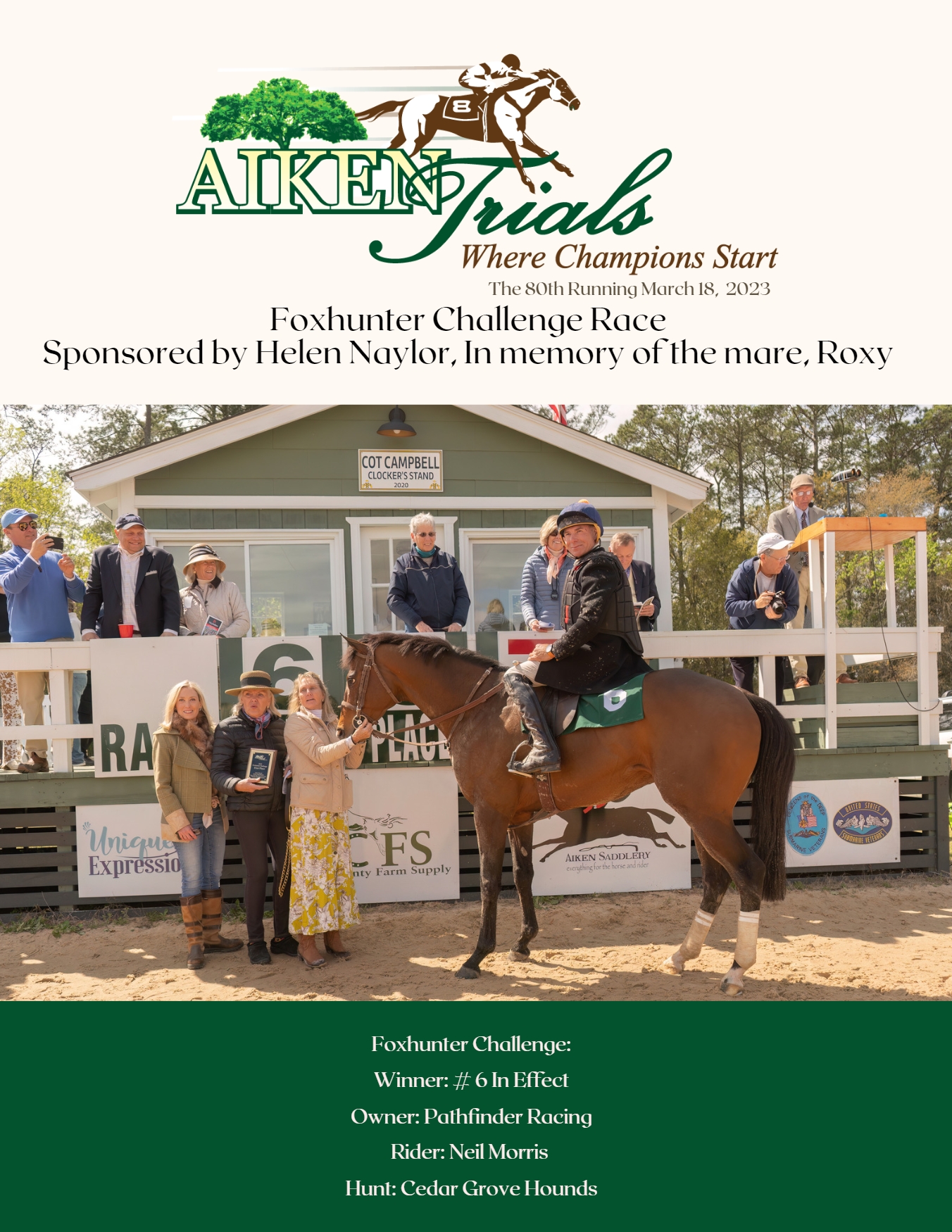 Fourth Trial -Three Year Olds and Upwards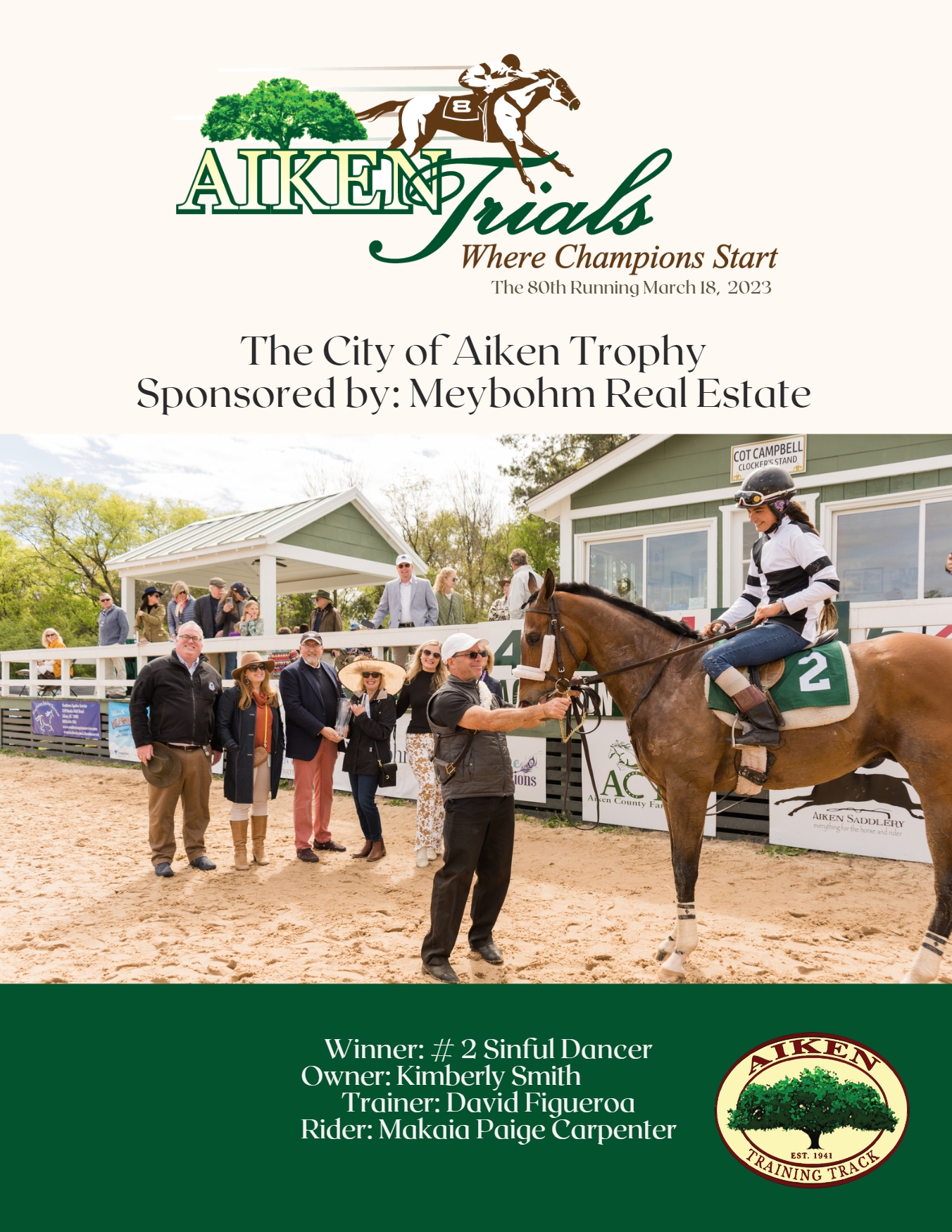 Fifth Trial -Three Year Olds and Upwards